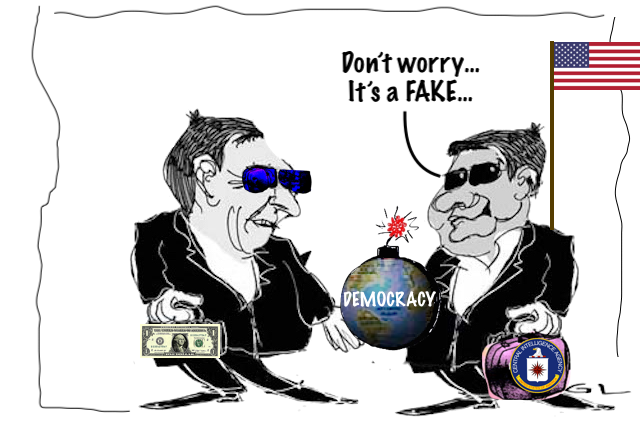 WHILE THE RUSSIAN INTERVENTION IN UKRAINE IS FILLING THE COFFERS OF NEWS-MAKERS AND OF AMERICAN WEAPON MANUFACTURERS, THERE IS ANOTHER WAR BEING FOUGHT IN THE BACKGROUND.
MANY SERIOUS JOURNALISTS HAVE ALREADY ALUDED AT THE "ECONOMIC WAR" BUT NOT SO MUCH ON THE WESTERN MAIN STREAM MEDIA (THE MEDIOCRE MASS MEDIA DE MIERDA) BECAUSE FOR ALL PUBLISHED JOURNALISTS IN THESE MEDIA, THERE IS ONLY ONE THING THAT MATTERS: THE US DOLLAR IS KING AND DON'T BOTHER US.
IT SEEMS WE'VE FORGOTTEN THE DAYS WHEN GENERAL DE GAULLE PUSHED FOR A GOLD PARITY RATHER THAN THE FLIMSY PAPER DOLLAR WHICH NOW IS WORTH MINUS 139 STICKS OF GUMSHOE GLUE — CONSIDERING THE US DEFICIT OF 31 TRILLION BUX WHICH IN UKRAINIAN CURRENCY IS WORTH SEVERAL ZILLION TANKS FULL OF GOLDFISHES.