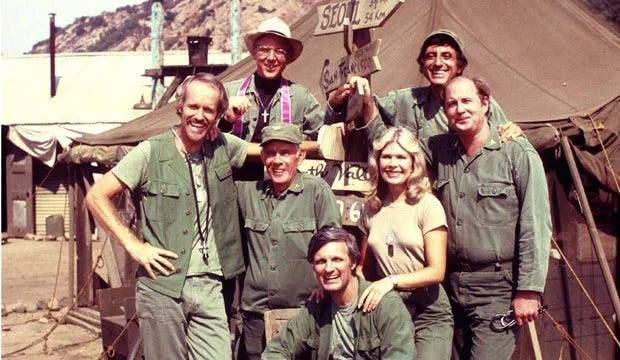 Well, this snuck up on me. You too, I'll bet. I remember watching this show every night at 7pm on our not-so-trusty B&W portable. My parents, of course, were watching ABC News on the big colour telly. So a lot of my MASH memories are black and white. It seems appropriate.
The New York Times TV guy thinks so, too.
Today, "M*A*S*H" also feels both like ancient history and entirely current, but for different reasons.

On the one hand, in an era that's saturated with pop-culture nostalgia yet rarely looks back further than "The Sopranos" or maybe "Seinfeld," "M*A*S*H" is often AWOL from discussions of TV history. Sure, we know it as a title and a statistic: The 106 million viewers for its 1983 finale is a number unlikely to be equaled by any TV show not involving a kickoff. But it also gets lost in the distant pre-cable mists, treated as a relic of a time with a bygone mass-market TV audience and different (sometimes cringeworthy) social attitudes.

Yet rewatched from 50 years' distance, "M*A*S*H" is in some ways the most contemporary of its contemporaries. Its blend of madcap comedy and pitch-dark drama — the laughs amplifying the serious stakes, and vice versa — is recognizable in today's dramedies, from "Better Things" to "Barry," that work in the DMZ between laughter and sadness.
I saw a post on the socials, Alan Alda (Hawkeye) and Mike Farrel (BJ) now very old actors, celebrating the anniversary. And because it was the socials and we can't have nice things anymore, one of the first comments was from some MAGA loon screaming at them for betraying America. Or something.
Anyway, makes me nostalgic is all. I might see if I can find the Captain Tuttle episode.